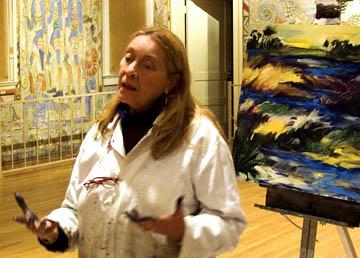 …"The materials used to make my art are as important as the message , idea and forms that it takes…"
Pat Odom earned a Master's in Art Education from the University of Southern Mississippi and did post graduate work at the: University of Hawaii; Louisiana Tech University;  Ringling School of Art and Design; and Arrowmont School of Art and Craft with University of Tennessee Credit. She has studied with major instructors such as Hugh Williams, Jere Allen, Wolf Kahn, Ron Pokrassio, Clara O'Conner, Walter Crump, Jos Smith, and Moe Brooker.
Patt taught in public schools for 14 years, including Ocean Springs High School. She taught at Gulf Coast Community College from 1980 until she retired in 1999. While there, she was head of the Visual Arts Department as well as Gallery Director. She continues to give workshops around the country.
Pat has done major mural work for the US Navy and Air Force, which was later published in several art books, magazines and newspapers.
Patt has been honored for her career as an artist and educator by, the National Museum of Women in the Arts, Instructor of the Year at Gulf Coast Community College, National Teacher's Award for Excellence, Who's Who in American Educators, and Who's Who in American Women.