Vanda McCormick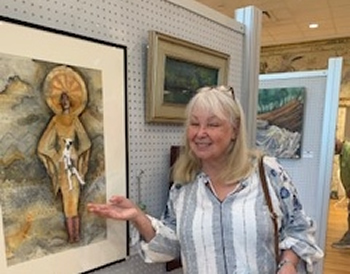 I am a native of Gulfport, MS, where I live with my husband, Frank.  I am a retired Art Teacher of 25 years in public schools as well as college.   I received a BFA in Graphic Design, and M. Ed in Art Education from William Carey University.
Wildlife and nature are major inspirations for my paintings and artwork. I love using texture, patterns and layering to achieve a tactile surface to my paintings. Having a background and degree in graphic design, I love the inherent beauty defined by simple monochromatic imagery, as well.  I want to show beauty in my work, but I also want to allow the viewer to take their own journey through my work and hopefully come to an appreciation for the work shown.
I am a member of The Mississippi Chapter of the National Museum of Women in the Arts, Mississippi Art Colony and Ocean Springs Art Association.  I have participated in art exhibits at The Attic Gallery in Vicksburg, MS, Meridian Museum of Art Bi-State Exhibition,  Mississippi Art Colony Traveling Show, Lauren Rogers Museum of Art,  and a one woman exhibit at Eastern Shore Art Center in Fairhope, AL, among others.  I have won numerous awards for my work, and my paintings hang in many locations around the United States.