Marian Knobbe-Scott
An expanse of water and shifting clouds hanging in a cerulean blue sky. Rain squalls sweeping in over the barrier islands, bayous, and marshes. The colors and light change with each season. The beauty of the elusive mingling of land and water is an inspiration. Using predominately watercolors, I try to capture the essence of the coast.
I began making art in the backseat of a Rambler while traveling cross country. Always fascinated by the cloud shadows across the grassy plains, the heat mirages on hot desert roads, or the sunlight spilling through trees. I studied art from a very early age in New York City, Chicago and then Denver. In my early twenties I studied in England and France.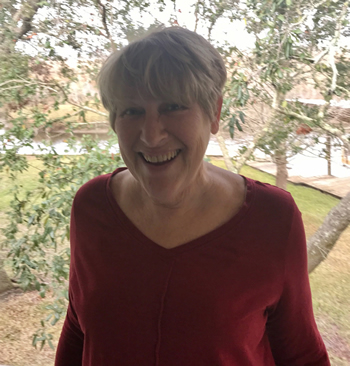 My work ranges from realistic to the abstract influenced by the impressionists and artist from the Color Field movement.
Painting is a meditation. It is a joy to watch the empty paper turn into a colorful dimensional image.
My husband, who helps create the custom framing for my work, and I live on Arcadia Bayou in Pass Christian, MS.