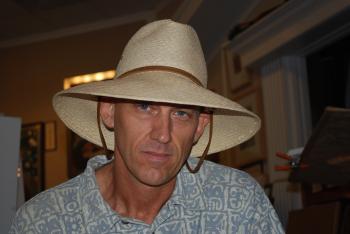 Stig has been a professional dedicated artist working with pen & ink and watercolor for over 20 years. He prizes most of his original watercolors and rarely sells them, which makes the highly sought after and valuable. His artistic flavor is so engaging and representative of the MS Gulf Coast that his works can be seen on the walls of several local hospitals and countless homes and offices. Nature is his greatest source of inspiration. His greatest inspiration is Horn Island where he often goes to paint and relax.  He can often be seen walking on the beach or biking along the coast. Stig was awarded the People's Choice award at the 2008 Peter Anderson Festival in Ocean Springs, Ms.
Stig didn't have a big childhood dream of becoming an artist. He started college intending on becoming a doctor. But as he began to sketch more often he finally went to training at the Pennsylvania Academy of Fine Arts and the New Orleans Academy of Fine Arts. Stig returned to the Gulf Coast after his training and the rest is history.
His unique style encompasses scenes that no longer exist and a lifestyle that is going away. He has said in interviews that his art represents the brutal realism in coastal scenery. Stig often renders the Gulf Coast scenery in a somewhat grainy or sketchy manner to emphasize the uncertainty within nature.
Stig's creations start off with an original pen& ink drawing from which a limited edition print is made. He then colors a select number with watercolor, making them "almost" originals.