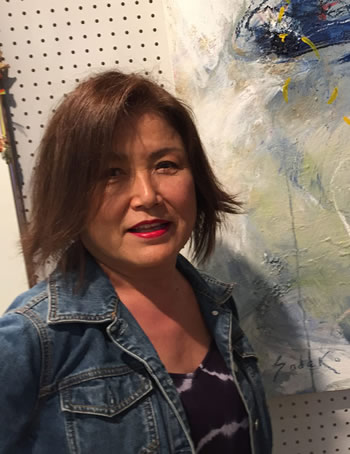 "As a daughter of a painter, I grew up in an artistic environment in Japan. Being emotionally affected by my father's death, I determined to carry on his will to paint. It was 29 years ago.
Through a variety of stages and experiences, I am now an American, have been living in Mississippi's Gulf Coast for 35 years. After completing an Associate Degree in Arts with Honor from the Mississippi Gulf Coast Community College in May 1998, I enrolled at William Carey College on the Coast with the Art Scholarship. I graduated with the Bachelor Degree in Fine Arts with High Honor, with an emphasis in painting and ceramics in May, 2001. Upon my graduation from William College, I was awarded with Excellent Senior from the Arts Department. This year I received the Visual Arts Fellowship 2015 Award from Mississippi Arts Commission (MAC).
Being influenced by my father, I had been an expressionistic figurative painter until I chose a different direction in 2010 to become an abstract expressionistic painter. Two experiences in 2010 are the decisive factors for my change. I was chosen to be in the Artworks Program, a program sponsored by the MAC and the National Endowment for the Arts (NEA) to study abstract and viewing the exhibits of Abstract Expressionist Joan Mitchell's work in New Orleans. Encountering in her work was absolutely a "Wow!" moment for me.
Abstract Expressionism has given me freedom to intuitively express my state of mind, emotions and feelings. It is, I think, a concrete way to share an inner sense, place and time with the viewers directly and deeply. Creating art is always a product of the past and future experiences. Each time I stand in front of a blank canvas, I start with a fresh determination to create a new painting illuminated by my past experiences.
My hope is to become an artist whose art enables people to feel revived. 'Art is the irrepressible expression of human spirituality…art is to the spirit what bread is to the body; through art we find oneness with transcendental entity, breathe its rhythm and absorb the energy we need for spiritual renewal.' –Daisaku Ikeda"