"Painting is my greatest joy; I am there to play and create. I paint without fear and restrictions; it is so freeing to remove expectations and doubt. I am truly about the process; it's exhilarating to dance a line and color across white canvas.
Everyday opens a new door for my invention. Each painting is a surprise and I continually reveal myself to myself."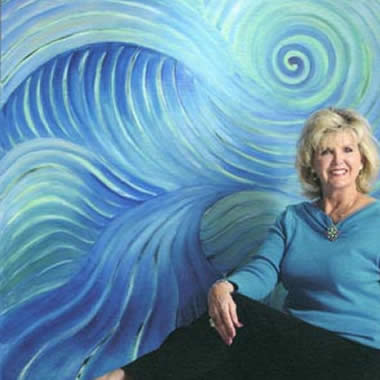 An award winning abstract expressionist, Opal Smith's training began at the Mississippi Gulf Coast Community College and she has since studied under numerous prestigious instructors including Moe Brooker of Philadelphia Institute of Fine Art, Patrick McKay, from Savannah School of Design, Savannah GA., Hugh Williams of Auburn University, Joseph Smith of Pratt Institution and renowned colorist, Wolf Kahn.
Some of Opal's awards include "Best of Show," Slidell, LA., "Exceptional Merit" at Hilton Head Island Show, "Exceptional Merit in Abstract and Non-objective," at Ocean Springs & Pascagoula, MS. and she was a winner in the Meridian Museum of Art Tri-State Show in Meridian MS. She has won multiple awards at the Cottonlandin Museum Show in Greenwood, MS. and has presented her work in exclusive showings at the Meridian Museum of Art, Meridian, MS. and George E. Ohr Museum of Art, Biloxi, MS.. Opal's solo exhibits include Eudory Welty Library, Jackson, MS., Jackson Municipal Art Gallery, Jackson, MS., Madison Gallery, Madison, MS., and Cole Pratt Gallery, New Orleans, LA.
Opal's paintings are displayed throughout Mississippi as well as the Gulf Coast region.