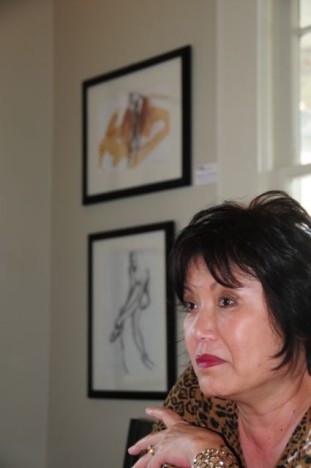 As the daughter of a renowned painter, Sadako grew up in an artistic environment in Japan. Her father sent her to receive private art lessons. However, Sadako's true journey as an artist began after the death of her father when she resolved to carry on his legacy of painting.
Sadako received formal training at Gulf Coast Junior College where she received an Associate of Arts Degree in 1998.  She attended William Carey University on an Arts Scholarship, where she achieved a Bachelor of Fine Arts Degree in Painting and Ceramic with High Honor in 2001. At her graduation from William Carey, Sadako received the Excellence Senior Award from the Arts Department.
In addition to be accepted as a member of the Southern Arts Federations in 2007, she holds a life-time membership to the Ocean Springs Art Association.  She is also actively involved as member of The Arts, Hancock County since 2006.
Her continued focus is on an expressionistic form of painting and drawing with subject matter whether it's a figure, conceptual formulation or a landscape. At the same time Sadako continues working on several series, her new passion is Abstraction.
Sadako has shown her work at museums and galleries throughout the region and nation.