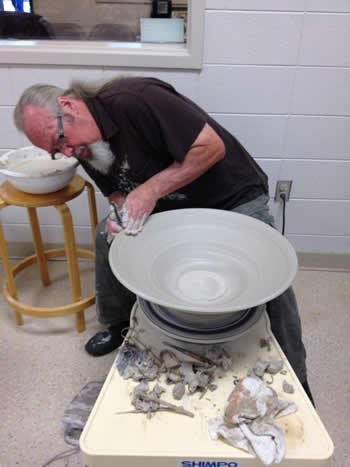 Gerrol Douglas Benigno, an award-winning Mississippi Gulf Coast artist, has been creating his own line of jewelry for over 20 years and started a collection of unique clay sculptures in 2005.  His work has been featured in The Sun Herald, Ocean Springs Record, South Mississippi Living magazine and Beach Blvd magazine.  You may have also seen Gerrol's work at some of the area's art festivals and events.  He is also a member of the Ocean Springs Art Association and teaches pottery and jewelry classes locally.  According to Gerrol, his clay sculptures are usually renditions of people and personalities he's encountered over the years, and he loves that they often evoke laughter.
About the Artist: Gerrol works with stoneware and is best known for his sculptural fish but he has had a full and varied past. He was born in Plant City, Florida, in 1950, but spent most of his childhood in intriguing places such as Europe, the Southern United States and California. His artistic interests and abilities began as early as elementary school projects working with clay, metal and pastels, but it was during his service in the United States Army as a Fixed Prosthesis Specialist that Gerrol learned wax carving and casting techniques. After leaving the Army he studied under a Master Jeweler and Goldsmith on the Mississippi Gulf Coast for four years before opening his own jewelry retail establishment.
For over twenty years many within the local and regional communities admired Gerrol's jewelry designs.  At the age of 50 Gerrol decided to leave retail to concentrate on designing and manufacturing his own line of jewelry, The Gulf Coast Collection, as well as perfecting his painting and clay sculpting techniques. This proved to be the right move as The Gulf Coast Collection was featured at Symmetry Jewelers and Designers of New Orleans, LA., and his paintings were exhibited at Studio G of Pass Christian, MS. Finally, working with clay became more than a hobby for Gerrol, it became his passion, and in 2005 he started a collection of unique clay sculptures.
Gerrol Benigno has been Negrotto's Gallery in-residence artist since 2007.